Latest News! ALLPCB newly launched 4-6 layer Kingboard with competitive price from $12.99!
About Kingboard
Kingboard is the second largest domestic PCB material supplier, second only to Shengyi that ALLPCB commonly used brand. Its excellent product performance and high cost performance are favored by customers.
Now in order to provide customers with higher cost performance, We have introduced the use of kingboard to make 4-6 layers of prototype or small batch orders. Suitable plate selection is the premise of the pursuit of cost performance!
Competitive Price
Only $12.99/10pcs for 4-layer PCBs, size≤100*100mm. Order Now!
About Specifications
1) Default Specifications:
TG135, 0.5oz
2) Optional Specifications:
TG135/TG150, outer copper: 1oz/2oz, inner copper: 0.5oz/1oz/2oz
Fast Delivery
Prototype Delivered in 72 hours, 1-5㎡ for 5 days, 5-20㎡ for 7 days, over 20㎡ for 9 days.
ALLPCB prototype/small batch is 4-5 days faster than peers, and big batch is about 2 days faster!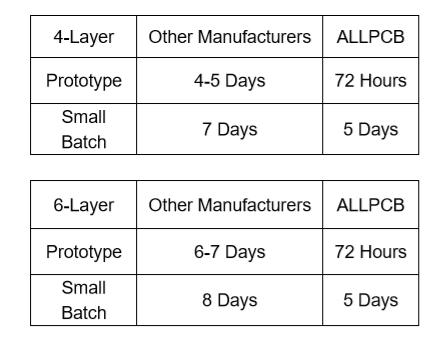 Why we insist on our fast speed? Time is more valuable than money! The fit is the best!
ALLPCB is always your first choice!Quote Now
Note: The actual delivery date and price are subject to the online-quote page.
【Disclaimer】
1, ALLPCB releases the news to disseminate more information. It doesn't represent the viewpoint of ALLPCB!
2, ALLPCB doesn't guarantee the accuracy, authenticity, integrity, validity, timeliness and originality of the information (including but not limited to words, data and icons)!
3, ALLPCB doesn't verify the relevant information, which cannot be taken into your consideration of investment. Or else at your own risk!
4, For any infringement, please contact the author directly, or write emails to ALLPCB to get the feedback!