January
January 27, ALLPCB Wuji·Interconnected Spring Festival Party was officially hold in Guangde Yigang Golden Horse Hotel, Anhui. Many leaders and guests from different regions gathered together to witness the opening of a new era of Wuji interconnection.
February
February 12, ALLPCB top management team (TMT) hiking to pray for customers, which is last for more than 10 years.
February 26, ALLPCB sign the SMT cooperation contract with Jiefang factory in Xianlin, Hangzhou, leading to the official establishment of SMT self-owned factory.
March 6, the "ALLPCB Cup" Nanjing University of Technology electronic design competition award ceremony and national competition mobilization meeting ended successfully. The competition was sponsored by ALLPCB and lasted nearly 10 months.

March 31, Jieyuan, a subsidiary of ALLPCB, was presented at the 2019 international (Shanghai) electronic circuit exhibition.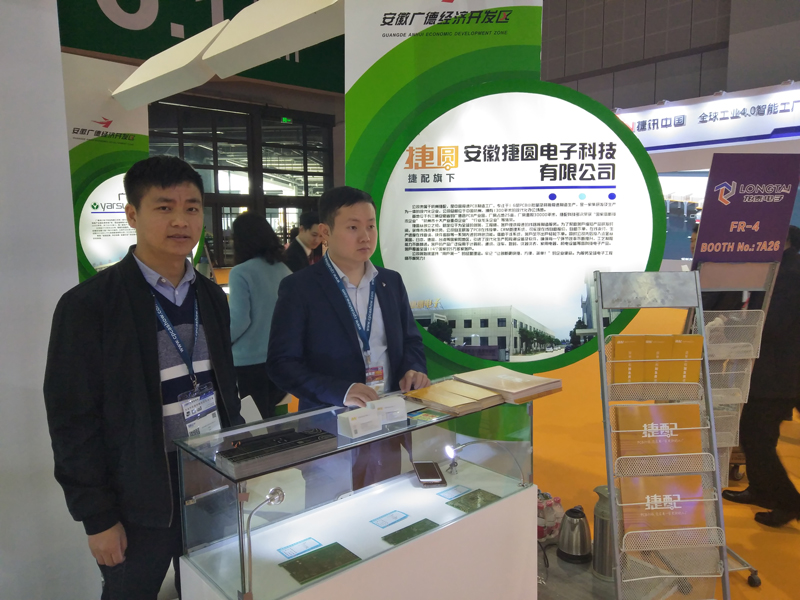 March 23, the office location of the Czech Republic Component Supply Chain Division was relocated to Hangzhou Electronics Market, No. 1, Boyuan Road, Liangzhu Street, Yuhang District, Hangzhou.
April
April 24, the number of ALLPCB day documents exceeded 5000, entering a new era of prototype.
May
May 10, ALLPCB employees donated RMB 5,480 to Hangzhou Carnation Children's Rehabilitation Center, contributing to the development of the cause of autistic children.
June
June 27, ALLPCB was selected as a model for digital transformation of Hangzhou's traditional foreign trade manufacturing enterprises.
Chairman and CEO Zhou Bangbing was invited to attend the 4th Global Cross-Border E-Commerce Summit and gave a speech.
July
July 10, the number of square meters on the day of the ALLPCB exceeded 1350.51. On July 11th, ALLPCB appeared at the China (Chengdu) Electronic Information Expo.
August
August 26, as a special guest, Mr. Zhou Bangbing, chairman and CEO of ALLPCB, delivered a speech entitled "looking at the future of new retail from the manufacturing side".
August 28, ALLPCB appeared at the 6th Shenzhen International Circuit Board Procurement Exhibition 2019, and actively communicated with industry colleagues in order to make common progress.
September
September 25, ALLPCB obtained 30 million yuan in pre-A financing from Galaxy Ventures to build a super factory.
September 27, Zhou Bangbing, Chairman and CEO of ALLPCB was invited to attend and gave a keynote speech as the final guest.
October
October 11, ALLPCB appeared at China International Digital Economy Expo 2019.
October 12, ALLPCB successfully entered the 15th floor of Hangzhou Xintiandi Shangzuo West.
October 12, Racing Team from Hunan University, sponsored by ALLPCB, achieved excellent results in the 10th China University Student Formula Car Competition (FSC).
October 30, ALLPCB appeared at the 94th (autumn) China electronics show.
November
In November, ALLPCB chairman and CEO Zhou Bangbing accepted the "new domestic products to sea" interview.
November 18, the platform of ALLPCB Components was launched, injecting a new force into ALLPCB, opening a new chapter in the development of ALLPCB.
December
December 23, ALLPCB hold an appointment ceremony for the new generals and veterans.
In December, ALLPCB was rated as one of the Top 100 Industrial Internet Enterprises in China in 2019.
【Disclaimer】
1, ALLPCB releases the news to disseminate more information. It doesn't represent the viewpoint of ALLPCB!
2, ALLPCB doesn't guarantee the accuracy, authenticity, integrity, validity, timeliness and originality of the information (including but not limited to words, data and icons)!
3, ALLPCB doesn't verify the relevant information, which cannot be taken into your consideration of investment. Or else at your own risk!
4, For any infringement, please contact the author directly, or write emails to ALLPCB to get the feedback!