ALLPCB: a fast PCB prototype manufacturer. In order to provide more convenient service experience,ALLPCB also provide PCBA service.
Fast speed not only illustrate by PCB prototyping, but also by PCBA! The following points are characteristics of PCBA service, which help customers to order more conveniently.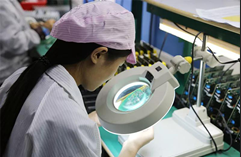 For enquipments, ALLPCB invested much capital in modern production enquipment and testing enquipment, such as YAMAHA surface mounting machine, FUJI surface mounting machine, reflow soldering, semi-automatic tin dipper, wave soldering, X-Ray testing machine, etc.
ALLPCB ensure continuous improvement of process capability, fit out high standard anti-static and dust-free workshop, go through 9 steps of "inspection procedures" to strictly control and improve quality, and acquire ISO14001, UL796, ISO 9001, AIPHA solder paste CTI and other authoritative certificates.
In addition, ALLPCB have independently developed SMT on-line billing and CRM management system, which can realize a series of features such as online self-quotation, self-ordering, online payment, on-line inquiry of order production progress, express tracking and so on. Customers can place order by simply clicking the mouse!
PCBA service continues the standard of PCB prototyping service, realizes 7/24/365 online, provides technical support, production operation and order service for customers, responds to customer personalized needs quickly, and provides customers with perfect high-end manufacturing process solutions.

ALLPCB will continue to invest in R&D, establish a leading technology R&D system, supply chain management system and environmental protection management system in PCB industry, persist in continuous reform and innovation, and make unremitting efforts to serve global electronic engineers. PCB & PCBA, one-stop service can greatly optimize your shopping experience.
【Disclaimer】
1, ALLPCB releases the news to disseminate more information. It doesn't represent the viewpoint of ALLPCB!
2, ALLPCB doesn't guarantee the accuracy, authenticity, integrity, validity, timeliness and originality of the information (including but not limited to words, data and icons)!
3, ALLPCB doesn't verify the relevant information, which cannot be taken into your consideration of investment. Or else at your own risk!
4, For any infringement, please contact the author directly, or write emails to ALLPCB to get the feedback!