January 13, 2020, ALLPCB annual company conference was grandly held in Landison HSD Plaza Hotel Hangzhou. The whole dinner party consists of three major parts: annual conference speech, stage performance, group photo. After a heart-stirring opening drum-playing, our annual company conference was officially launched.
At the dinner party, all of ALLPCB staff watch the world's premiere of the promotional video "Journey to ALLPCB" together. Relying on big data, Internet of Things, cloud computing, artificial intelligence and other core technologies, ALLPCB networked all production links to realize the three sides of human, machine and things interconnected.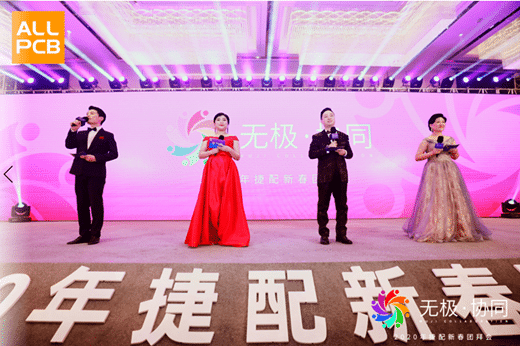 Next, Chairman Zhou Bangbing delivered an annual conference speech. In the speech, Mr. Zhou made a brief review of 2019 and put forward the outlook of 2020.
Dr. Lu Boxiang, the strategic consultant of ALLPCB, gave a speech with passion and energy.
The following is stage performance taken by ALLPCB "animals".
What did ALLPCB do in 2019?
Let's review some of the major achievements of ALLPCB in 2019:
1. a successful transition from prototype to small-batch.
2. component ordering team formed and gradually play an increasing role.
3. successfully established SMT self-operated factory.
4. Implementation of the collaborative manufacturing gigafactory model.
5. Rapid and iterative growth of the Wuji super system and the establishment of a huge data center.
6. the Pre-A round of financing has been successfully completed, and the TS of well-known institutions has been successfully signed.
7. the introduction of a group of talents, injecting new energy into ALLPCB.
What will ALLPCB do in 2020?
Development Goals of ALLPCB (ECMS1.0)
In the next 3-5 years, ALLPCB will continue to regard the Wuji system as its central part, connect electronics industry manufacturers, and deeply integrate industrial manufacturing resources, break the boundaries between production capacity and processes between factories, achieving order sharing and capacity sharing. A new model of "platform order receiving, intelligent matching" and "multi-factory collaboration" has been formed to provide electronic industry parts production services for more than 100 thousand OEM ODM factories.
Development Goals of ALLPCB (ECMS2.0)
Connecting brands, the development goals of the second stage of ALLPCB, through the mode of "flexible platform & rigid factory", ALLPCB provides fast, economical and good R&D (research and development) and production services for millions of electronic industry brands around the world, and maximizes the speed, quality and user experience effect.
Development Goals of ALLPCB (ECMS3.0)
ALLPCB will connect consumers, help brands to better understand demand and changing trends, and cooperate with manufacturing factories to quickly manufacture electronic products that meet consumer needs. ALLPCB will take the mission of "Make the industry more efficient and make life better", take the vision of creating a C2B2M collaborative manufacturing system for the electronics industry, take "100 billion output value by 2035" as the goal, driven by "Industry 4.0", has become a "double 100 billion" enterprise.
At last, we would like to thank all ALLPCBers for your support and trust in the past 2019. ALLPCB will continue to offer high-quality products and superior services in 2020 and the future.
【Disclaimer】
1, ALLPCB releases the news to disseminate more information. It doesn't represent the viewpoint of ALLPCB!
2, ALLPCB doesn't guarantee the accuracy, authenticity, integrity, validity, timeliness and originality of the information (including but not limited to words, data and icons)!
3, ALLPCB doesn't verify the relevant information, which cannot be taken into your consideration of investment. Or else at your own risk!
4, For any infringement, please contact the author directly, or write emails to ALLPCB to get the feedback!