I would like to share my experience with ALLPCB , for my latest Project "Wearable Bow Tie".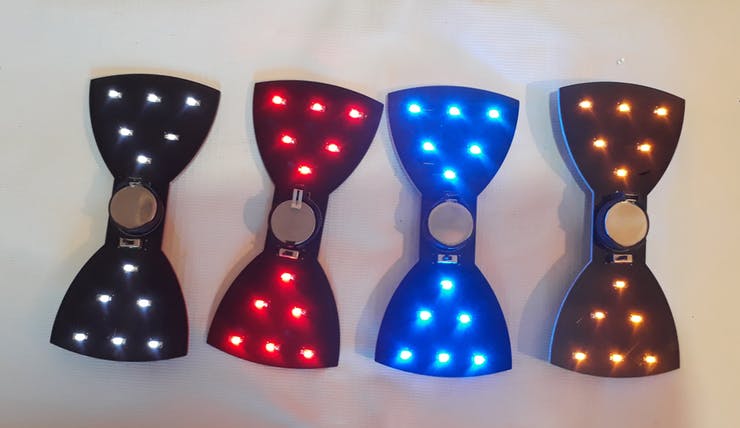 They provides PCB manufacturing services for customers with many customized product options,
such as quantity, layer, PCB thickness, dimension, color and all that.
I ordered 10 2-Layer PCBs with delivery to India. The whole process from order submission to receipt

of the product took about 1 week. Furthermore I got one PCB extra too :). and the quality of them were excellent .
Delivery was pretty quick to india, it took only 8 days to get the PCBs.
short and sweet: short delivery time, cheap, high quality
I'm completely satisfied.
What is also spectacular about ALLPCB to me, as a maker and customer, is their service. From their
friendly support staff to their intuitive, user-friendly website features, it all counts towards
what makes ALLPCB an ideal company and brand for any electronic hobbyist.
Regarding the packaging of the PCBs I ordered, it did come in a very nice PCBWay-designed box with
the PCBs wrapped in bubble wrap and in a zip lock bag. Thus, I cannot complain about how it was nicely
delivered to my doorstep via DHL Express. About the PCB itself, it had a nice build
quality as the boards were very study, the text I designed were engraved in a clean fashion,
and all edges of the boards were polished smoothly. The hole spacings for components were also
uniform, making component assembly extremely easy. The tracks were also done perfectly on the
front and back of the PCB with a clean finish as well. Overall, I really like ALLPCB's build quality
and how they package your orders. Here are some pictures of the soldering and leg clipping process being
done to the PCB:
If you like to Watch the video of building process, Have a look at following:
https://www.youtube.com/watch?v=VIUykbv8Elc